CoolSculpting Sydney

- Non surgical fat reduction
CoolSculpting in Sydney
CoolSculpting in Sydney offers non-surgical fat reduction
CoolSculpting is a procedure that eliminates unwanted fat cells by freezing them. There is no anaesthetic or downtime associated with the novel treatment. It is the only FDA approved treatment to use controlled cooling to target and eliminate localized superficial fat. The FDA has approved the use of the treatment in the areas of the love handles, abdomen and thighs. Treatment protocols for other areas of the body are being continually developed and tested. There have been over a million treatments performed worldwide, so there is proof that it is safe and effective!!
How does CoolSculpting work?
Fat cells freeze at a higher temperature than other body cells. This allows CoolSculpting to safely target these cells without damaging the surrounding skin and muscle cells. After a precisely controlled dose of cooling, the fat cells freeze and crystallise. This disrupts their cell membrane and causes the cells to undergo a process called apoptosis (programmed cell death). Through this process, the fat cells die off and are cleared out by the body without leaving behind scar tissue. The dead cells are processed by your body and eliminated!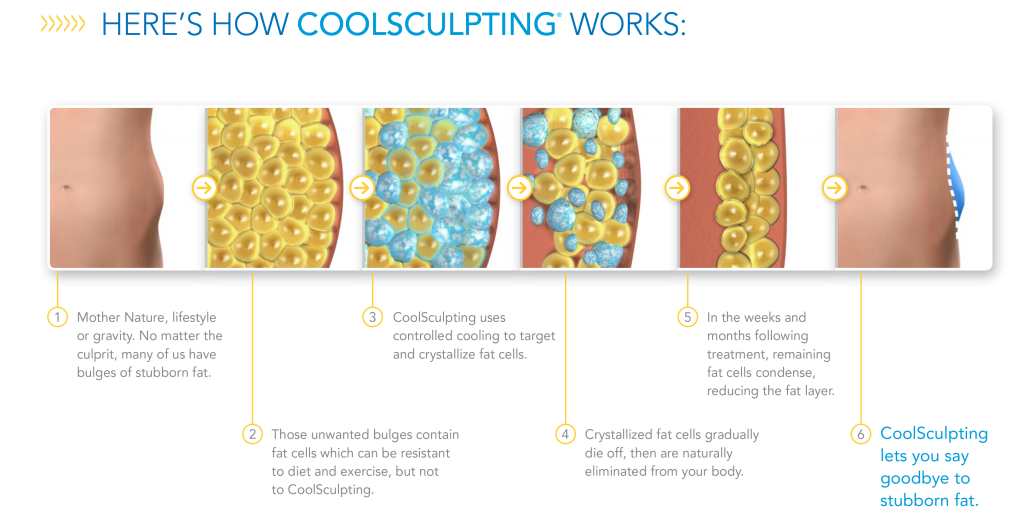 The science behind CoolSculpting was borne from the observation that children that sucked on ice-blocks frequently had thinner cheeks than their peers, due to the cold-induced reduction of fat cells in their cheeks. This idea then underwent rigorous testing for over a decade before being brought to human trials, and is finally a commercially viable procedure.
Who is a good candidate for CoolSculpting?
The process is most effective at reducing localized pockets of stubborn fat that is diet and exercise resistant. Ideal patients are on a healthy diet, exercise regularly and are within a few kilograms of their ideal body weight. Most patients that lead a healthy lifestyle understand that despite the work that they do on diet and exercise, there are still parts of their body that lose fat last – often the places that they wish were more sculpted.
You should not have CoolSculpting if you suffer from cryoglobulinaemia or paroxysmal cold haemoglobinuria. CoolSculpting is not a weight loss solution for overweight patients. Patients that are obese should consider weight loss through diet and exercise (or bariatric surgery) before embarking on body contouring procedures such as CoolSculpting.
What is involved in designing a treatment plan for CoolSculpting in Sydney?
A team member that has been trained in CoolSculpting assessment and treatment will review you and develop an individualised treatment plan that suits your body. This plan is designed to reshape your body into a more sculpted you that looks great from all angles. Like all treatments, we understand that everyone has different goals, time available for treatment and budgets. We will help you decide how to balance all of these factors to get a great result that you are proud of. If your treatment plan requires multiple sessions, these can be broken up into more manageable chunks of time for you.
How much does CoolSculpting cost, and how long does it take to have CoolSculpting in Sydney?
Consultations are complimentary; however, upon booking, you will be asked for your credit card number. Consultation cancellations with less than 24 hours notice, or no-show appointments, will incur a $100 cancellation fee.
During your consultation, you will be assessed by one of our friendly staff who will customise a treatment plan for you and your concerns.
Each treatment plan is different and will have varying sessions with different applicators, so costs and treatment times vary. Packages with less than 4 sessions cost $900 per session (area), and the costs drop with more cycles, down to $630 per cycle. See here for a more complete explanation of our pricing structures.
If you decide to proceed with a treatment, your therapist will secure your treatment session at a time that works for you. A $500 deposit is required to secure your treatment time, and full prepayment is due before your treatment.
What is involved in a CoolSculpting treatment?
A treatment session involves the preparation and application of a treatment head to the unwanted area of fat. The target fat is then sucked into the cup and cooled for a precise period of time. Patients feel pressure and intense cold for a few minutes. Like most cooling processes, the local nerves become less sensitive to the cold with time, so the feelings disappear quickly. There is no need for even local anaesthetic!
Patients then spend their time reading, watching videos, working on their laptop or catching a nap. At the end of a session the treated area is massaged for 2 minutes, and a new area can begin treatment.
What does a CoolSculpting treatment feel like?
During the procedure, uncomfortable feelings that may be experienced include pulling, tugging, pinching and numbness. After treatment patients typically report redness, swelling, bruising, firmness, temporary numbness and tingling/stinging. Like all medical treatments rare (and more unpleasant) side effects can occur. All of this will be discussed with you during your pre-treatment consultation.
What is the recovery after CoolSculpting?
CoolSculpting is completely non-surgical, so patients can return immediately to normal activities if they wish. Patients known to our practice have gone back to work, out to dinner, out for a run and even surfing straight after their treatment sessions. There are no scalpels, no needles, and no anaesthetic hangover.
Do I need to have a special diet when I have CoolSculpting in Sydney?
There are no special diets or supplements required to provide results after CoolSculpting. Special garments are not necessary but some patients report increased comfort when wearing compression garments after a treatment.
How long does it take to see results from CoolSculpting?
Results typically begin to be visible at about 3 weeks, but become most evident after 2-3 months. Some areas (such as thighs) tend to improve for up to 6 months. Patients should expect a 20-25% reduction in fat thickness in a treatment area. The body will still continue to flush out dead fat cells for up to 6 months after a treatment. Like all medical procedures, the patient experience and result will vary between patients.
If an area requires multiple treatment sessions, we try to space them 1-2 months apart.
Like liposuction, CoolSculpting removes fat cells from a particular area. If the patient gains weight after a treatment, there will be proportionately less fat deposited in the areas that have been treated.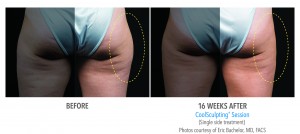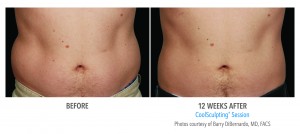 Please note, the above images are stock images provided by CoolSculpting, for before and after images of our patients please see our
gallery.
CoolSculpting in Sydney
Are you ready to love every view of you? A consultation will help you understand if CoolSculpting fat freezing is right for you. The sooner you are assessed by our team, the sooner that you can say goodbye to stubborn fat that has resisted all of your diet and exercise efforts. Long-term results and a new sculpted figure are just a phone call or an email (see our contact form below) away.
Patient

Education Library