Are you considering facial cosmetic surgery in Sydney?
More than any other part of our body, our faces project who we are. Our nature is reflected in our expressions, our thoughts are mirrored in our eyes and our well being is reflected in the glow of our skin. Age and environmental stress can blur the edges a bit and our faces no longer represent us as we see ourselves. More men and women are choosing to give nature a helping hand when it comes to projecting that inner self to the outside world. Facial cosmetic surgery in Sydney can help you with many different types of problems with your facial appearance.
Depending on the effect that you are after, there are various solutions that target problem areas. We offer many different surgical procedures to enhance your facial appearance. These include rhytidectomy (facelift), brow lift, rhinoplasty (nose reshaping), blepharoplasty (eyelid lift), mentoplasty (chin augmentation), lip enhancement, cheek enhancement, and neck lift. We also offer several different non surgical procedures that can enhance the appearance of your face.
A number of the techniques of facial cosmetic surgery in Sydney involved give the best result when used in conjunction with others, so that the rejuvenation is balanced and appears natural. For example, the results of a rhinoplasty (nose reshaping surgery) are often best when combined with a mentoplasty (chin reshaping/augmentation) to achieve facial balance. In the Vectra photos below, the patient on the left is pre-procedure, in the center with just a rhinoplasty, and on the right with both a rhinoplasty and mentoplasty. As you can see, adding the chin procedure dramatically enhances the effect of the nose procedure, giving the best overall facial appearance for this patient.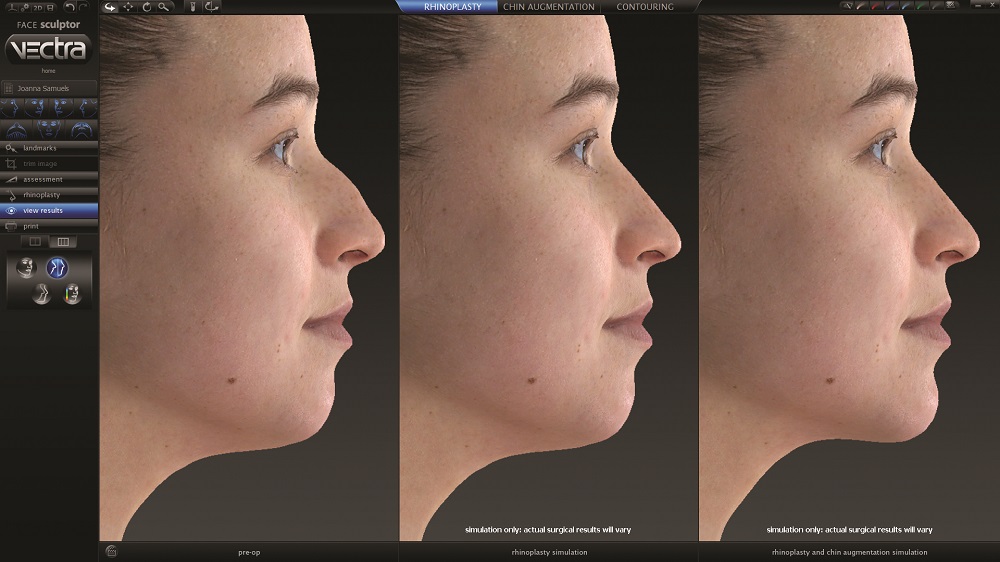 The Vectra System is a computer system that allows your Specialist Plastic Surgeon to predict the results of your procedure. The system takes multiple digital photographs at once, and software is then used to generate a 3D computer model of your face (or your breasts or body, depending on the procedure you're considering). This model can be manipulated to simulate the results of various procedures, so you can decide which ones would best meet your goals for your appearance. Dr Sandercoe has the Vectra System available here at Norwest Plastic & Cosmetic Surgery, and he offers the use of this system to people who come to see him for a consultation.
Patient

Education Library