Facebook Reviews Break AHPRA Regulations
In short, social media reviews of surgeons and procedures are now illegal and the national regulation board is threatening fines to any doctors that breach this law. Scroll straight through to the end if you want to miss the complicated discussion and wish to see where you can see reviews.
In 2010, the Australian Health Practitioner Regulation Agency (AHPRA) published the Guidelines for advertising regulated health services. Over the last 7 years, the guidelines have not changed much, but there has been some to and fro between AHPRA and doctors advocacy groups about the extent of the guidelines.
Section 5 deals with "What is unacceptable advertising?". In that section it states:
To comply with s. 133 of National Law and these guidelines advertising of services must not:
create or be likely to create unwarranted and unrealistic expectations about the effectiveness of services advertised
encourage directly or indirectly inappropriate, indiscriminate, unnecessary or excessive use of services – for example, references to a person improving physical appearance such as 'don't delay', 'achieve the look you want', 'looking better and feeling more confident' have the potential to create unrealistic expectations about the effectiveness of certain services and encourage unnecessary use of such services
mislead, either directly, by implication, through emphasis, by comparison, by contrast, or by omission
use testimonials or purported testimonials
….
This was followed by the Updated Advertising Guidelines, which came into effect on 20th May 2014. This is a complicated document, but a brief summary of the important points follows:-
The National Law bans the use of testimonials or purported testimonials in advertising a regulated health service
Testimonials are statements making a recommendation about a service or its quality
Advertising is something that intends to promote or encourage the use of a regulated health service
Practitioners that are using their social media page to advertise regulated health services must remove any testimonials that are part of their advertising
Practitioners are not responsible for removing unsolicited testimonials published on a website or social media over which they do not have control
On 31st October, Dr Gavin Sandercoe received the following email from AHPRA.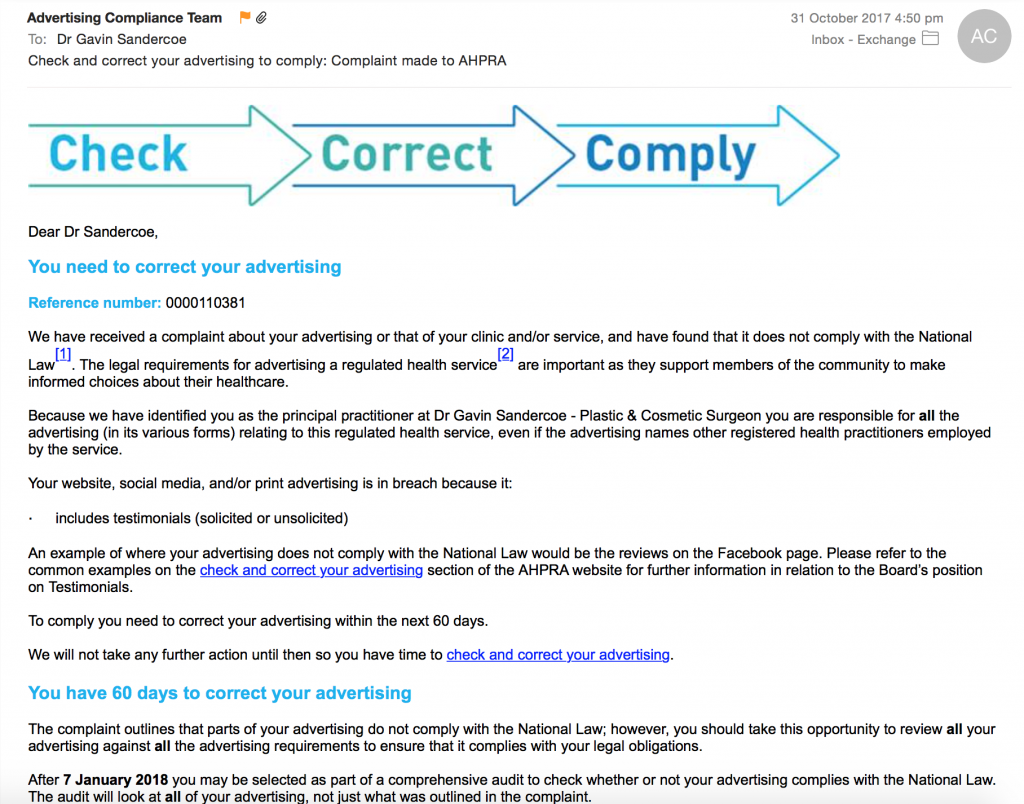 It appears that this email is as a result of a competitor making a complaint about the reviews on our Facebook page. A quick review of the link on how to 'Check and correct your advertising" shows the following as rules to work with as it stands for Facebook reviews: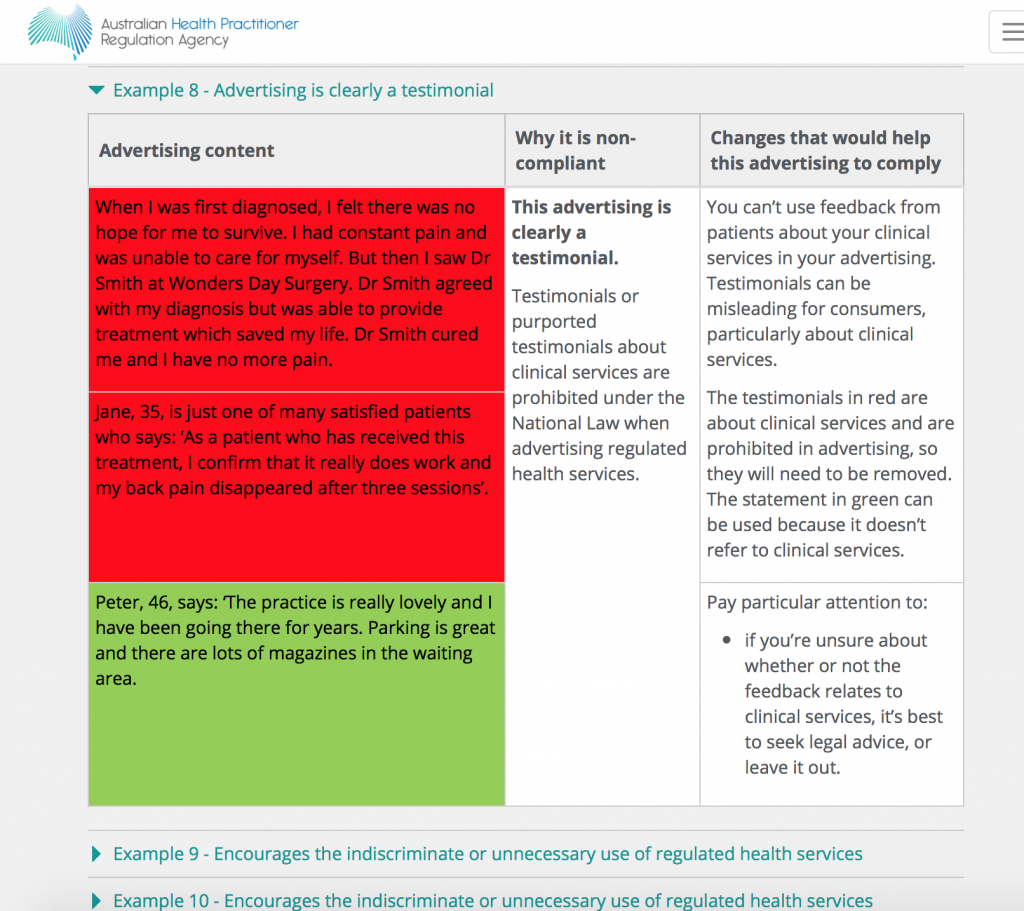 With all of this in mind, it becomes apparent that patients can leave a review about their anciliary experiences of visiting the rooms but can't discuss anything about their procedures. Facebook has advised that there is no way to remove reviews but still allow a rating.
We have a small Facebook following compared to other surgeons in Sydney, and do not have staff whose only role is dedicated to managing our social media. Continuing to allow reviews on our Facebook page would require frequent monitoring of the reviews section and removing reviews that breached guidelines (not possible as far as we can tell) faster than other doctors can complain about our reviews.
With this in mind, we will be deactivating our Facebook reviews section on 30th December 2017. We would like to thank all the patients that contributed to our average 5 star rating.
For patients that wish to read patient's first hand experiences of Dr Sandercoe's care, we keep a listing of external sites that they can view here.